Zhengzhou IW Diamond Co.,Ltd.(IW for short) abides by the quality policy of "IW's reputation,super hard quality and excellent materials",and has passed iso9001:2015 quality management system certification.The whole manufacturing process of products is in strict accordance with the quality control standards.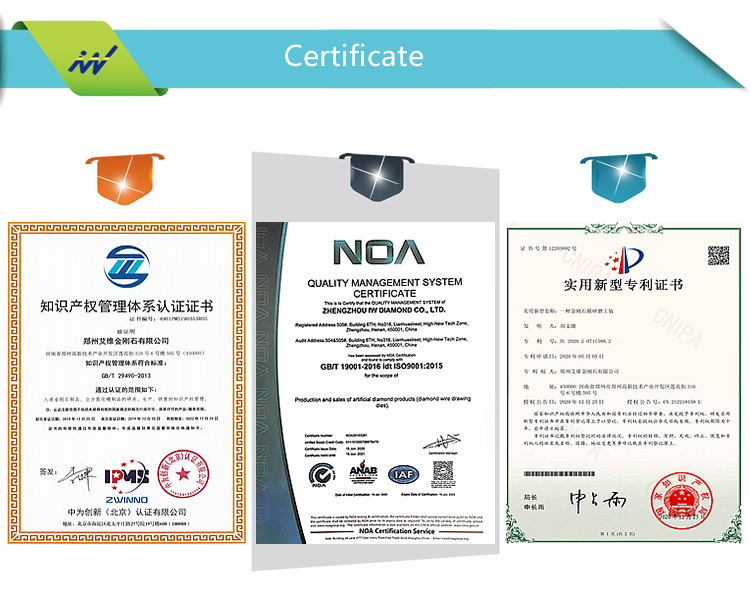 We have complete and advanced production equipment and testing instruments in our industry.By continuously strengthening the quality control of raw material preparation,assembly,sintering,processing,quality inspection and other links,we can realize the controllable and traceable manufacturing process and ensure the stability and consistency of product quality.

The company has established a professional quality management team to carry out total quality management.In order to promote the operation of various quality management systems,we have set up special testing rooms such as raw material testing room,semi-finished product testing room,finished product and data analysis testing room,and established professional quality teams including quality system and quality inspection.

The company attaches great importance to the construction of quality inspection team,equipped with all kinds of laboratory analysts,process inspectors,supplier inspectors,final inspectors,quality engineers and other full-time quality assurance personnel.We have purchased a large number of testing equipment and scientific research equipment,advanced testing equipment and professional testing personnel,strictly controlled,and manufactured high-quality,high-performance and long-life products for avi.

IW always adheres to the quality policy of "innovation is the lifeblood,products such as character,meeting customer needs is the bounden duty,persevere".

The company has established a set of practical and complete quality assurance system and standardized professional inspection process. Establish a sound quality management system,establish four stages of inspection for the production and processing control process,including IQC,IPQC,FQC and OQC,to control the product quality in an all-round way.

The company strictly controls the quality of raw materials,strictly implements the process parameters of each process,strictly implements the inspection process,and carries out orderly management and control according to the inspection specifications and customer requirements,so as to ensure that the product delivery quality meets customer needs.